Welcome to Goflmort!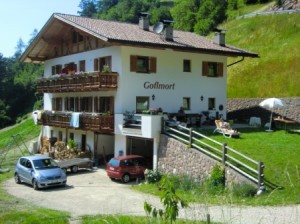 In the heart of South Tyrol, at the foot of the famous "Dwarf King Laurin's Rose Garden" rock formation, you will find the village of Tires—a beautiful area for a vacation. Active outdoor enthusiasts will find many opportunities for hiking, horseback riding, or skiing. Meanwhile, those seeking a more relaxed pace can just lie back and let their minds wander as they enjoy the peace and tranquility of the surrounding Tyrolean Alps.
Goflmort is a vacation in the country, surrounded by untouched nature. Enjoy the country life with our farming family and all the animals on one of the oldest farms in the area. Let yourself be enchanted by the gorgeous scenery in one of the most picturesque vacation spots in the world!